on
October 21, 2011
at
11:10 am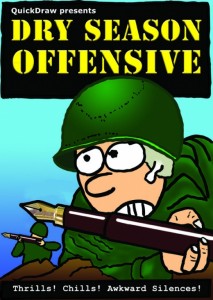 Against all expectations of moderation and good taste, cartoonist John Weeks has produced yet another collection of comics, Dry Season Offensive.
Earlier this year John committed to drawing a daily webcomic – putting most 'five days a week' professional webcartoonists to shame. Regardless of work, travel, and the vicissitudes of daily life he has maintained the pace, to the amazement and amusement of his (ostensible) peers.
"Quick? That sonic boom you just heard is John at work." notes bemused artist David Chelsea.
"I've been doing this without an advance buffer of strips, which means no safety net," says the prolific creator. "but it's been fun to see what emerges, from last minute post-it productions to elaborate fumetti photo comics. I've enjoyed the opportunity to reflect at whatever comes to hand – be it local holidays and culture or more generalized observations on life. Oh, and there's poop jokes too."
The so-called artist will be appearing at Barcamp Phnom Penh (September 22-23) and speaking on Pannasastra University's radio show Tuesday, November 8th from 7:00pm to 8:30pm. (90.0 FM)
Get your copy of Dry Season Offensive at: http://www.quickdraw.me/downloads