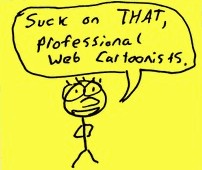 India Ahoy: travel comics without travel! India comics sans India!
Before my first trip to India I did some placeholder strips.
Why get trapped in a recursive loop of postcolonial ruminations?
I just cut to the chase and kept up the pace. QuickDraw? Daily. Count on it.
I'm selling the originals at $500 a page, buy them now before I become incredibly famous.
English Language:
PDF(0.82 MB)
ePub (1.3 MB)
Mobi (0.85 MB)
Cbr(0.57 MB)
Cbz(0.57 MB)