Posts Tagged 'artist'
3 items.
by admin
on
May 11, 2011
at
2:22 pm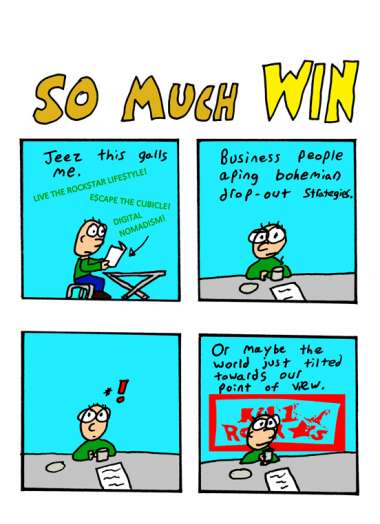 I've spent a good deal of my life working with artists & bohemians. They've always believed there are different and better ways to live your life. I'm amused that the business community has discovered this and is trying so desperately to cash in with 'Lifestyle Design'. All the jargon sounds the same! And there can only be so many gurus.
Most people I know are already engaged in trying to better their life. There is no one-size-fits-all strategy. Overall, if there's more talk about options? That's good. IS WIN!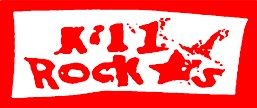 [Panel four: I have a lot of affection for the music shared by the 'Kill Rock Stars' label. "Rock Star Lifestyle" (yawn, been done) or "Kill Rock Stars"?]

by admin
on
March 24, 2011
at
5:33 pm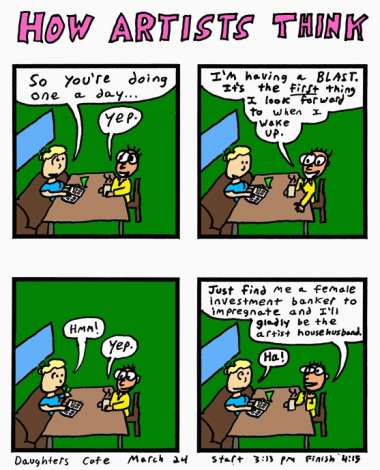 Sharing a hard copy of 'What You Missed' with an art pal @ Daughters of Cambodia Café, Phnom Penh.
I'm enjoying doing a daily comic, to the point where I'm becoming frustrated that I can't devote more than an hour to it. A fair number of my professional cartoonist friends take the homemaker role, since a studio is often based out of it.

└ Tags:
art
,
artist
,
artists
,
banking
,
comic
,
comics
,
financial
,
househusband
,
investment
,
investmentbanking
,
quickdraw
,
quickdrawcomic
,
webcomic
,
webcomics