on
August 5, 2011
at
6:06 pm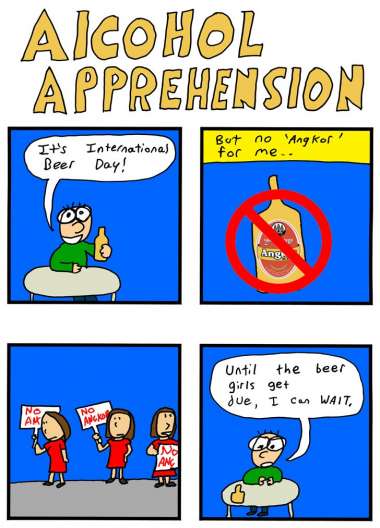 [Note: corrected typo, but ComixPress is acting up. You get TWO strips today! Lucky you!]
As per the advertising slogan; 'My Country, My Boycott'.
I had no idea there was an 'International Beer Day' until it popped up on my radar this afternoon.
http://en.wikipedia.org/wiki/International_Beer_Day
Back in the day? I actually taught English at a brewery, briefly. (No freebies, alas.)
Here is hoping the Angkor Beer drama can settle without anyone else getting hurt.
News
http://www.phnompenhpost.com/index.php/2011072750661/National-news/workers-urge-angkor-boycott.html
http://www.phnompenhpost.com/index.php/2011080350839/National-news/beer-promoter-in-hospital.html
http://www.phnompenhpost.com/index.php/2011080550878/National-news/one-week-deadline-for-beer-strike-resolution.html
Petition
http://www.change.org/petitions/public-stop-buying-and-drinking-cambrew-products
Letters:
http://www.phnompenhpost.com/index.php/2011080350823/National-news/my-dignity-my-beer.html
http://www.phnompenhpost.com/index.php/2011080350822/National-news/where-is-the-law.html
http://www.phnompenhpost.com/index.php/2011080350821/National-news/losing-our-thirst.html