Posts Tagged 'jesus'
2 items.
on
October 31, 2011
at
5:00 am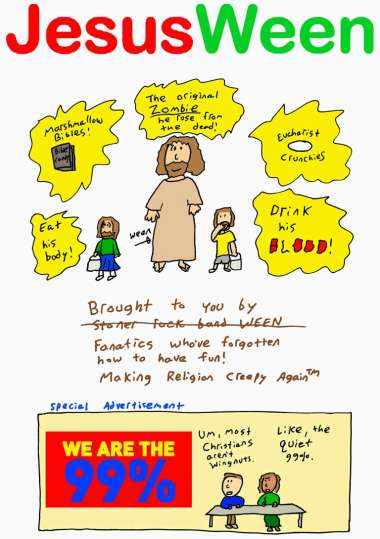 You just can't make up stuff like this. http://JesusWeen.com
http://www.buzzfeed.com/mjs538/the-complete-guide-to-jesusween
http://en.wikipedia.org/wiki/Ween
http://www.youtube.com/watch?v=iSVR94c0bqM
by admin
on
April 8, 2011
at
6:00 am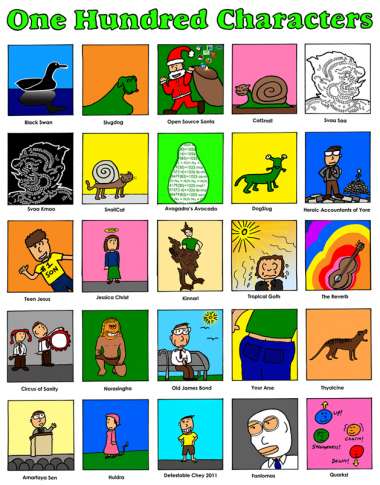 'Autobiography' John Allison said. "Get over it," in an enjoyable little manifesto. I'm a hobbyist, not a professional webtoonist. Point taken though: it's good to explore new frontiers.
So: if I were to do more fiction, what stories, what characters would I want to see?
It took me a week to assemble them. Referencing and drawing kept me busy longer than I'd thought.
Thanks to: Kim Phally, Moeu Diyadaravuth, Vanessa Boots, Sasha Constable, Dana of Java Arts, Sovanna Phum, the Our Books team, & especially my family.
Now it's your turn: What characters would you like to see more of ? Please make your suggestions in the comments below. (The first cogent Cambodian commenter will get a framed QuickDraw print of their choice.) Click HERE for larger sizes.
If the comment form gives you too much trouble, hit me via John@Jweeks.Net.

└ Tags:
a-chey
,
accountants
,
Achar
,
altosaxaphone
,
AmartayaSen
,
arse
,
avocado
,
avogadro
,
aynrand
,
benfranklin
,
benjamins
,
bethnumbers
,
bigbrother
,
billypilgrim
,
blackswan
,
Chandrasekhar
,
chanteuse
,
cherryripe
,
comic
,
comics
,
conlang
,
CosmologicalConstant
,
deChardin
,
devil
,
djinjok
,
DropBear
,
DropBears
,
EdwardSaid
,
elephant
,
esperanto
,
failwhale
,
fantomas
,
garuda
,
gilbert
,
GilbertandSullivan
,
goth
,
goths
,
gubo
,
hansbethe
,
HeLa
,
huldra
,
jamesbond
,
jennyeverywhere
,
jesus
,
joebloggs
,
johndoe
,
jumboshrimp
,
kinnari
,
koko
,
lagovirus
,
laika
,
lorenz
,
Makar-Dhwaja
,
marcelduchamp
,
marx
,
Matrioshka
,
MatrioshkaBrain
,
mayaderen
,
Megafauna
,
mobyfail
,
monkey
,
mormon
,
moto
,
naga
,
neakta
,
nimchimpsky
,
Octobriana
,
opensource
,
pachyderm
,
palanka
,
pallbearers
,
poincare
,
praet
,
preahmahaghosananda
,
prospero
,
quarks
,
quickdrawcomic
,
reverberation
,
santa
,
satellite
,
saxaphone
,
sinbad
,
slugdog
,
snipe
,
socialmediaguru
,
sullivan
,
swan
,
Tennyo
,
Thyalcine
,
tuk-tuk
,
tuktuk
,
tulpa
,
TumTeav
,
tycho
,
tychobrahe
,
webcomic
,
webcomics
,
wigner
,
yeak
,
yorp