New Year, New Site, New Sights
on
December 30, 2010
at
7:45 pm
Hello new readers! Hello old friends!
QuickDraw started as a print comic in 1995, and was launched at a party in San Francisco. It's since appeared in Australia, Indonesia, Singapore, Korea and currently resides in Cambodia.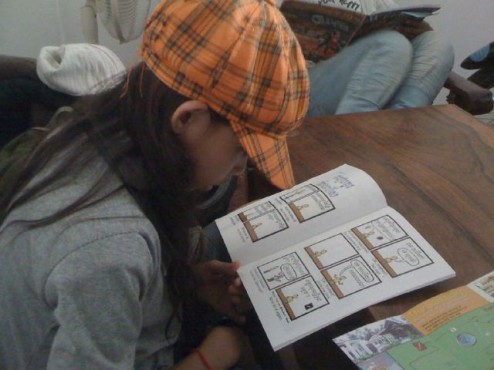 I launched QdComic.com in the year 2000. Originally a platform on Freespeech.org for promoting my self-published print comic, it evolved into a sporadic web comic in 2003. I was very keen on taking the opportunity to share snippets of life in Southeast Asia, including strips in Khmer and Indonesian amongst others.
In 2010, a retrospective exhibition and publication at Java Cafe in Phnom Penh led me to think: what's ahead?
I live in Southeast Asia, which gives me some additional tools from which to interpret cultural doings, world news and life in general. But it's quite easy to get blasé and stay in an expat bubble if you don't watch out. So my goals are
To continue to share my Asian explorations and renew my sense of enthusiasm for new tidbits, as if I'd just arrived. (These are often explored with the help of friends, so don't be surprised if you find yourself drawn into a comic.)
At the same time, free myself up to comment on global issues of media, science, and culture. No one is safe, nothing is sacred from my wobbly pen.
I blame these culprits for inspiring me to reboot my crusty decade-old site.
Birmingham's Pete Ashton, a comics compatriot and blogger whiz capped his 2000 to 2010 blog recently, starting fresh for a new decade.
Lisa Mandel (France) remarked that it was essential to draw daily to get good chops.
Veteran webcomickerJohn Allison issued a provocative manifesto listing the things a serious artist should do. (He quickly followed up with an addendum that "hey, hobby comics are OK too".) (He also mothballed his earlier comics site, 'Bobbins'!)
Am I an artist? Am I a hobbyist?
I've concluded I'm in-between, a bantam weight 'semi-pro'. I am quite frequently the protagonist and incorporate a fair bit of daily doings, so don't be surprised to find your own self staring back over the page at you. Hence, QuickDraw.Me.
So: new site, new look, new comics, same artist.  Do you have a copy? Get yourself QuickDrawn already! Download yourself some free comics, or order some print copies. Above and below: just a few of our many satisfied readers. (Thx Melina for pix!)