Back and Bad
on
January 9, 2011
at
10:23 am
That's right, Weeksy's back!
One of my frequented Siem Reap hangouts, the now sadly departed original 'Cheese Sandwich' restaurant, did not know much about their signature dish, but could scrape together a decent plate of chicken rice on order. This would, however, cause me to be exposed to MTV Asia. But I've dealt with stranger things over my breakfast.
The sheer conceit of manufactured bands doesn't surpass that of hip-hoppers but comes mighty close. Case in point: 'Backstreet's Back'. I was bemused by the presumption that the Backstreet Boys could somehow leave a gaping hole in my cultural identity.

They were barely a blip on my radar.
If prefabricated boy bands can do it, why shouldn't cartoonists cop some attitude? We're far more obscure, have a better claim at being underground/alternative, and are frequently more explicit.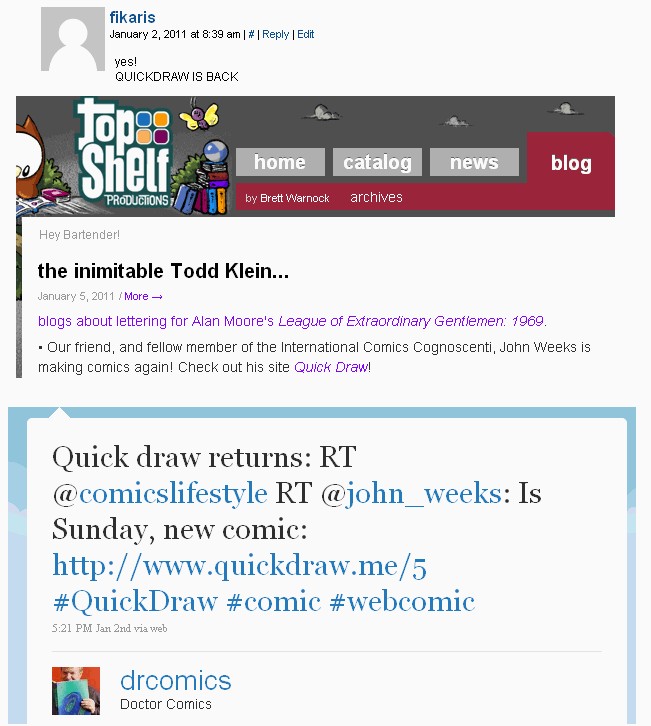 And according to Dr Comics, Em Pee Eff, and Top Shelf, I'm back too.Thanks all!
Old readers: I ain't gone nowhere. But for someone who draws fast, the volume of my drawings hasn't been terribly large over the last year, so it's time to step up.  Hope you don't mind seeing more cartoons on a daily basis. Plus guest artists, e-comics, and other tidbits as we go. I intend to do this for at least a year, let's see where it takes me. (It certainly was fun watching Chris Downes give it a go.)
I will be using this supplemental blog to chronicle how my schemes and ideas collide with reality and economies of time and money. (As well as simply shoot my fool mouth off.)
New readers: check in daily for a new comic, see if you like! Whether they strike you as 'lip-synching' or the real deal, that's your call. Your comments are appreciated as I wrangle a working schedule into shape.